Making Sense of Competition Law in the Balkans
Serbia • Montenegro • Bosnia and Herzegovina • North Macedonia
Welcome to Doklestic Repic & Gajin Competition Blog!
"The mission of the blog is to help you see and decide that this is the place where you can find the most relevant and useful competition news from Serbia, Montenegro, Bosnia and Herzegovina, and North Macedonia. I look forward to seeing you on our pages!"
Dr. Dragan Gajin, Head of Competition at Doklestic Repic & Gajin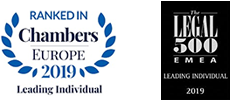 Recent Posts
The 2022 edition of Legal 500 EMEA guide is out and features several departments and individual lawyers from Doklestic Repic...
READ MORE