After being included in the latest edition of Chambers Europe, Doklestic Repic & Gajin lawyers also feature in the rankings published by Legal 500.
In the latest Legal 500 EMEA guide, Doklestic Repic & Gajin has been included in Tier 3 for the Competition practice area in Serbia, with two of its lawyers recommended – Dr. Dragan Gajin and Dr. Slobodan Doklestic.
Here are some of the client testimonials about our competition practice, selected by Legal 500:
'Doklestic Repic & Gajin's competition practice is unique because of its expertise. The lawyers really know what they are talking about. Another thing that stands out is that they always know what is going on in the market and what the competition authority is focusing on, which helps clients in setting compliance priorities. These are counsels who clients want to call when they have problems, either real or perceived.'
'Slobodan Doklestic is very punctual and thorough, as well as being practical in the advice he gives. He is the kind of person clients turn to for the most sensitive matters.'
'Dragan Gajin always seems to know what is going on and it is often from him that clients hear about new developments which could be of relevance for their companies.'
In addition to the department ranking and two lawyer recommendations, Head of Competition at Doklestic Repic & Gajin, Dr. Dragan Gajin, has been included in Legal 500's list of leading individuals in the area of Competition in Serbia. Here is the full list: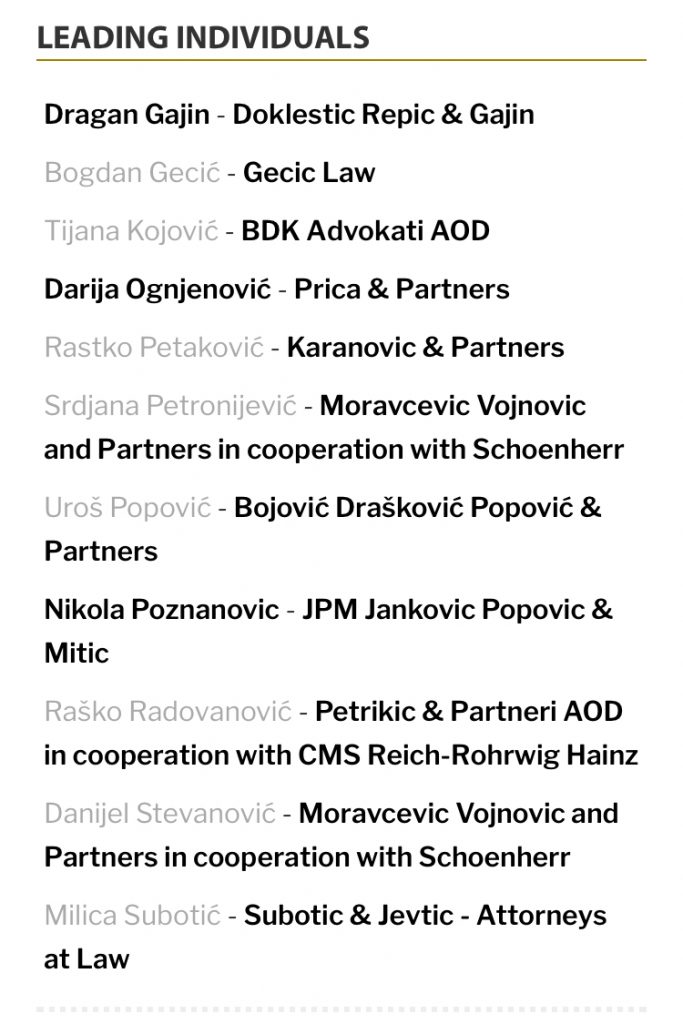 To access the rankings, please click here.
Apart from Competition, Legal 500 also ranked Doklestic Repic & Gajin in the areas of Commercial, corporate and M&A, Dispute resolution, and Employment, respectively. For more information about this, please click here.
We would like to extend our sincere congratulations to all law firms and individuals included in the latest Legal 500 guide.