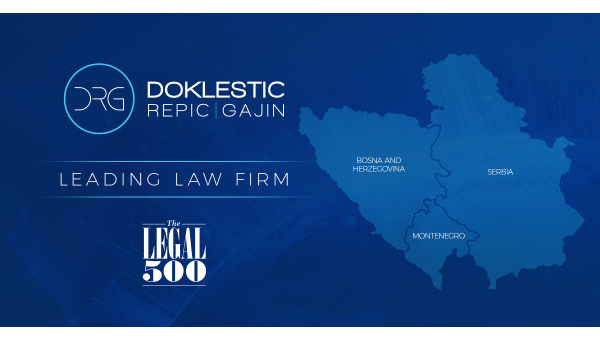 The 2022 edition of Legal 500 EMEA guide is out and features several departments and individual lawyers from Doklestic Repic & Gajin law firm.
In its base jurisdiction, Serbia, our law firm has maintained a Tier 2 ranking for Competition. In addition, Dr. Dragan Gajin, Head of Competition at Doklestic Repic & Gajin, maintained his ranking as a leading individual in this field. The Legal 500 commentary also noted the competition work done by Dr. Slobodan Doklestic, a partner, and Ms. Aleksandra Stojanovic, a senior associate at our firm.
For complete Legal 500 rankings for Competition in Serbia, please see here.
Doklestic Repic & Gajin departments and lawyers were also ranked in several other fields in Serbia, including the key practice areas Commercial, corporate and M&A, Dispute resolution, Employment, and Real estate and construction. For more information about this, please visit our law firm website.
Finally, and something our law firm is especially proud of – apart from Serbia, Doklestic Repic & Gajin was also ranked as a leading firm in Montenegro and Bosnia and Herzegovina, respectively. This makes Doklestic Repic Repic & Gajin one of only a handful of law firms ranked across three jurisdictions in the region.
We wish to extend our sincere congratulations to all law firms and individuals included in the Legal 500 guide.