Serbia still has a system of individual exemption of restrictive agreements based on prior notification to the national competition authority (NCA). What kind of agreements did the NCA exempt during 2018?
The number of exemptions drops slightly
Compared to the year before (for an overview of the individual exemptions in 2017, please see here), the number of individual exemptions in Serbia dropped slightly in 2018, from 21 to 17.
Be that as it may, the number of individual exemptions during 2018 was equal to the five-year median.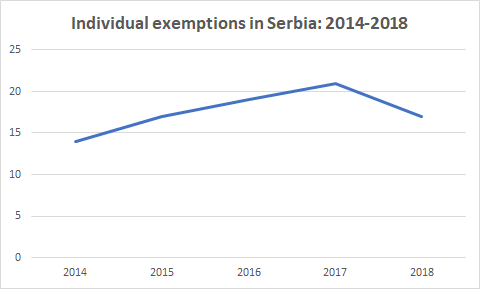 Vertical agreements dominate
With respect to the type of individually exempted agreements, vertical agreements dominated. Specifically, out of 17 exempted agreements, 14 were vertical.
In addition, there was one exempted horizontal agreement and two agreements of mixed, vertical-horizontal nature.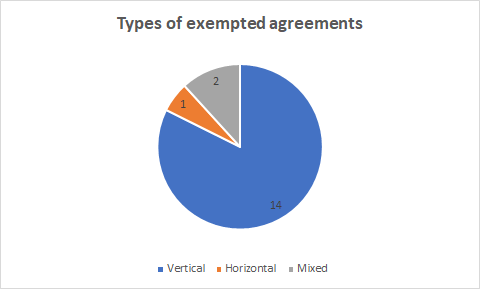 Pharma sector leads in individual exemptions
The industries in which the agreements were afforded individual exemptions by the Serbian NCA during 2018 were diverse.
However, there were two industries with a more significant number of exemptions (pharma and tyres).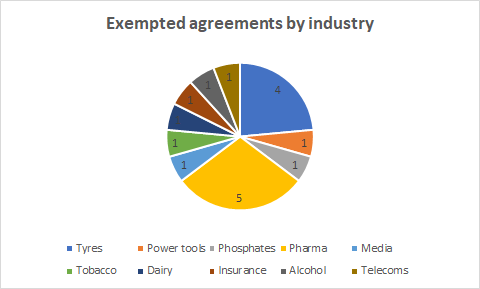 Key takeaway
A new Serbian Competition Act, which is expected to be adopted during 2020, is expected to introduce self-assessment into the Serbian competition law system. Nevertheless, it is also expected the parties will continue to have the possibility of making prior notifications to the NCA. Due to this, individual exemption is expected to retain its significance in Serbia.